Duke of Edinburgh, not dead yet, but retires at 95
Prince Philip, the Duke of Edinburgh and Queen's husband, aged 95, today announced his retirement from public engagements, after appearing at Lord's cricket ground the day before in fine health. Perhaps, this was to avoid having the Prince and the Donald (Trump) play golf or upset the Internet together later this year.
Buckingham Palace kept the web and social media on tenterhooks overnight for the 10am announcement which turned out to be an anti-climax and with the alternate fake news pronouncements funnier than either the real thing or anything the Duke ever said.
"I declare this thing open, whatever it is" (1969) is probably the only repeatable quip of the Duke's in this politically correct and legitimately zero-tolerance-of-racism age. For more, see the Guardian's list.
Prince Philip becomes
Phillip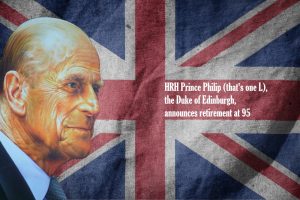 After decades of practice spelling his name right every time he makes a humorous, cringeworthy or sometimes racist gaffe, the press should not have been gaffe prone themselves adding an extra 'l' to his name. In fact, so many people on Twitter misspelt it that the wrong spelling was trending on Twitter above the correct spelling!
Some people went so far as to prematurely miss-announce the Duke's death at 95!
Hall of Shame
From USA Today to The Independent and The Poke, numerous news organisations spelt the Duke's name wrong:
Prince Phillip standing down from public life https://t.co/ZD2LUmCGMT pic.twitter.com/GGlJr3Meja

— The Independent (@Independent) 4 May 2017
#BuckinghamPalace's "emergency meeting" had Twitter freaking out. https://t.co/ZZ0MnU4tK6 #PrincePhillip pic.twitter.com/UzRM8BcS6r

— USA TODAY (@USATODAY) 4 May 2017
Farewell to all this: Prince Phillip's top 66 gaffes from public life https://t.co/RErwFWiaul #buckinghampalace pic.twitter.com/8DEHaupl5e

— The Poke (@ThePoke) 4 May 2017